Hello
Time just pas by, and it goes so fast when it is summer. It is time for a new challenge over at
Stampin For The Weekend
.
This week we have a sketch for you

So take this sketch and have fun create a Christmas card... in july.
Our sponsor this week is
Simon Says Stamps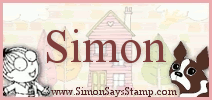 who has a $25 shopping voucher for the lucky winner.


I used my brand new Papillion stamp for this challenge, I think she is so cute.
The rest of the stuff is from my stash and have been there for a while. Papers are Hot of the press.

So head over to SFTW and take a look at what the design team has come up with along with the Guest designer for july. I am sure you will be inspired.