Hello folks :-D

Over at Stampin For The Weekend there are some big celebrations, and it goes like this:

This week we would like to see some BIG Celebration Cards or Projects! - so those big land mark birthdays - 1st, 18th, 21st, 30th etc or those big Wedding Anniversaries - Ruby, Gold, Silver etc - you could even count a wedding or a christening! The choice is yours!
I'd like to let you in on a little secret! Donna - one of the original founders of Stampin' for the Weekend who left a couple of weeks ago celebrates a BIG birthday on Sunday! Wonder if you can guess what age she will be (Wont be very hard if you look at my card haha - Sorry Donna).



Our sponsor this week
is: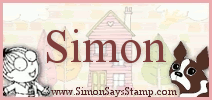 Recepie: Cardstock- unknown- had it for years
pattern paper-Basic Grey
alfa stickers- K & Company
Flowers and ribbon from stasch
Picture from a digital collagesheet from illkuli and stamps are digistamps from Stamping in style(I think )
Others- spellbinders label 1 and copics for coloring.
This card I made for a friend of mine and she became 40 in october, I am just a bit late... :-D

And last nigt I wanted to make another card for this challenge. And my exuse for this late card is; I haven`t forgot you, I am just a bit late... So this one is of for the postoffice today, better late than sorry.

On this one the papers are from Barely Mine Design and K&Company and Bazzill. I have used spellbinder nestabilites, MS punch, flowers from stash. Text from ClubScrap and the beautiful
Maribel
is from a Norwegian Company called
Stempelglede
, she has the most beautiful stamps, so visit her blog and take a peak. I have colored her with my copics.
So hop over to Stampin For The Weekend and take a look at the other team members work, so much to get inspired from, and feel free to join this challenge.